Organisational Development & Consulting
Align Strengths to Eliminate Weaknesses
Organisational Development & Consulting
This is a long-term enterprise-wide solution aimed at building and sustaining organisational practices for personal and corporate transformation
Implementing change
Engaging stakeholders
Align seemingly diverse people and cultures to work together towards a shared vision while obtaining results
Our consultants use tools and approaches including:
CliftonStrengths and Q12 engagement survey
Appreciative Inquiry, Strengths Strategy and People Acuity
E2grow and Gnowbe
Facilitating Organisational Change
Knowledge and skills are modelled in-person and built into habits through community-based micro-learning activities embedded on an online learning platform.
INDIVIDUALS Continuously invest intentional effort in developing TALENTS TO BECOME STRENGTHS, improving collaboration and performance.
TEAMS Build up a habit of REGULAR 1:1 CALIBRATION CONVERSATIONS, validate others' observable strengths-linked behaviour in organization communication & team processes.
LEADERS Develop leaders to build engagement, connection, and contribution.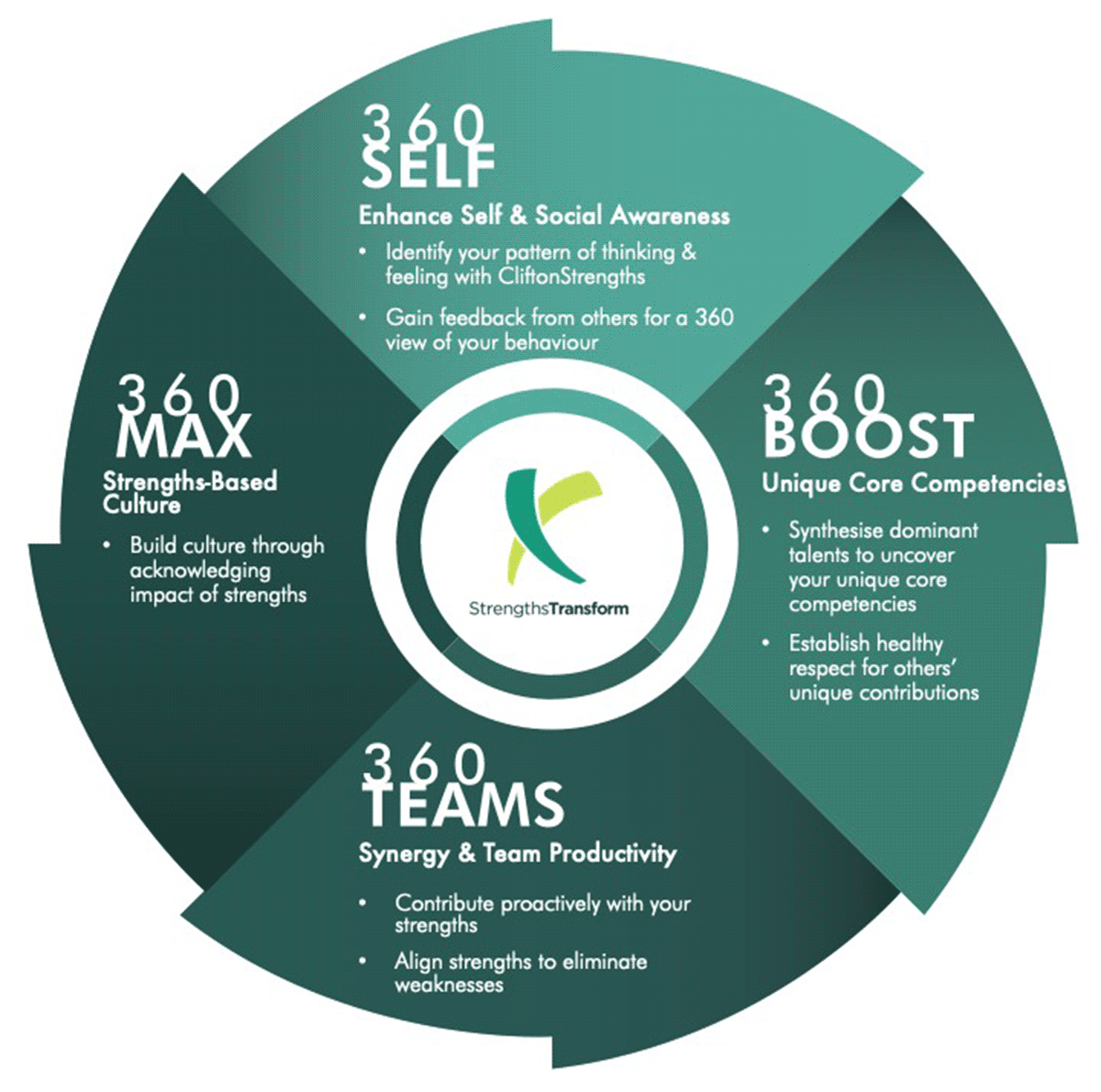 Testimonials
Singapore Prisons Service
"How can I apply what I learnt from this programme to my work?"
By understanding that differences stem from different strengths profile, look (instead) for their strengths so that we can work better together.
Tan Tock Seng Hospital
"How can I apply what I learnt from this programme to my work?"
This is very helpful especially when I allocate tasks or when I need the team to come together to work on a task.
National Healthcare Group
"What is your best takeaway?"
The best takeaway was using StrengthsFinder to assist with performance coaching, talent development and job redesign.

The coach is able to put us at ease and builds rapport quickly, thus facilitating the coaching. He was measured in his response and provided balanced views on how we can view our strengths, even for those that are seemingly negative.